Report sheds light on international homebuyer behavior in the state.
AUSTIN, Texas, Sept. 6, 2023 (Realty Wire) — A recent report released by Texas REALTORS® revealed that international homebuyers spent $4.3 billion on nearly 10,000 home purchases in Texas from April 2022 to March 2023. This activity represents 2.8% of the total number of homes sold and 3.6% of total dollar volume of residential sales.
While the median home price for international buyers, at $320,800, is lower than the overall Texas median of $342,000, the average purchase price for international buyers was $446,100. This suggests that while the majority of international buyers purchased homes priced close to or below the Texas median, a subset of international buyers bought significantly more expensive homes, driving up the average and total dollar volume.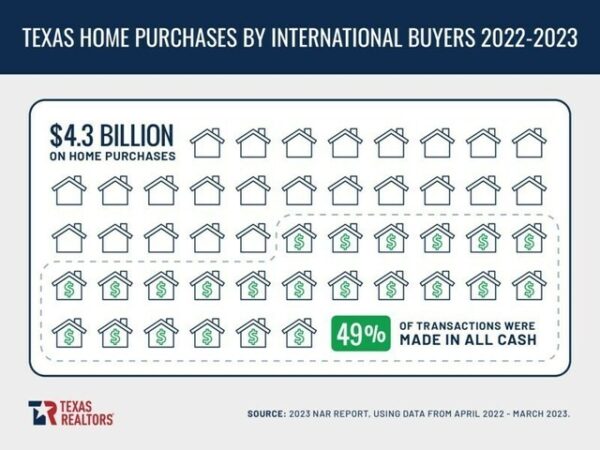 Nearly half (49%) of international buyers opted for all-cash transactions. This indicates that many of those buyers had a desire and means to purchase property without obtaining a mortgage. The report also revealed that a significant portion (61%) of international buyers already resided in the U.S. on visas.
"Texas has long been one of the most popular states for international buyers," said Marcus Phipps, 2023 Chairman of the Texas Realtors. "Our strong economy, diverse population and high quality of life make the Lone Star State an attractive destination."
According to a National Association of Realtors nationwide report of international homebuying activity, 11.7% of all international buyers of residential property in the U.S. purchased a home in Texas, behind only Florida (23%) and California (12.2%).
Mexico led significantly in terms of country of origin for foreign homebuyers in Texas, accounting for 41% of purchases. The other top countries were China (8%), India (7%), Nigeria (5%) and Venezuela (5%), showing a diverse international interest in the Texas real estate market.
About the Texas International Residential Transactions Report
This study was conducted by the National Association of REALTORS® for Texas REALTORS®. Information about international residential real estate transactions of Texas REALTORS® members pertain to the period April 2022–March 2023. The period is referenced in the report as "2023," while the prior survey period is referred to as "2022". With 995 members responding to the survey and 162 respondents who reported working with an international client, the margin of error at a 95 percent level of confidence is +/-3.1 percent.
About Texas REALTORS®
With more than 150,000 members, Texas REALTORS® is a professional membership organization that represents all aspects of real estate in Texas. We are the advocates for REALTORS® and private property rights in Texas. Visit texasrealestate.com to learn more.
About National Association of REALTORS®
The National Association of REALTORS® (NAR) is America's largest trade association, representing more than 1.5 million members involved in all aspects of the real estate industry. The term REALTOR® is a registered collective membership mark that identifies a real estate professional who is a member of the National Association of REALTORS® and subscribes to its strict Code of Ethics.
CONTACT: David Gibbs, Hahn Agency, david.gibbs@hahn.agency
SOURCE Texas Realtors