WHITE PLAINS, N.Y., June 27, 2023 /Realty Wire/ — The Hudson Gateway Association of REALTORS® (HGAR) announced today that veteran visionary association executive Lynda Fernandez, CAE, RCE, CIPS has been named HGAR's new Chief Executive Officer. The selection of Ms. Fernandez, who is currently the CEO of the Greater Louisville Association of REALTORS® (GLAR), culminates an extensive and comprehensive nine-month national search by HGAR.
Ms. Fernandez is scheduled to take her new position at HGAR on or about Sept. 1, 2023. She has more than 20 years of experience in association management, government affairs, communications and international business development. She is a Certified Association Executive (CAE), REALTOR® Association Certified Executive (RCE), and a Certified International Property Specialist (CIPS).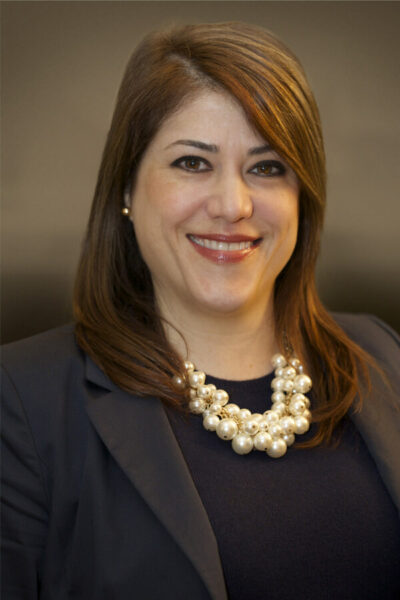 HGAR officials commended Jana Currier, who has served as interim HGAR CEO since January 2023 after longtime HGAR CEO Richard Haggerty left the association to become CEO of OneKey MLS. Ms. Currier will continue to serve HGAR as Chief Operating Officer going forward once Ms. Fernandez joins HGAR.
The HGAR Board of Directors appointed a CEO Search Committee that conducted a national search. The process for the highly sought after post spanned several months and countless hours of intense interviews. 2023 HGAR President and Chairman of the CEO Search Committee Tony D'Anzica said the search was highly competitive, but ultimately the Search Committee unanimously agreed to recommend Ms. Fernandez to the Board of Directors for approval as the new CEO.
"After concluding a thoughtful, diligent and extensive nationwide search, the Hudson Gateway Association of Realtors is pleased to announce that Lynda Fernandez has been unanimously approved by the Board of Directors to become the new Chief Executive Officer of HGAR," said HGAR President D'Anzica. "As a current Association CEO, and someone who has served as a former top executive at the nation's largest local REALTOR® association for more than 15 years, Lynda represents a new generation of leadership. Lynda is a change-agent who is results-driven, dynamic and multilingual."
He continued, "As President of HGAR, I am honored to welcome, and looking forward to working with, Lynda as she helps to steer HGAR into the future, build on its successes, and unleash its full potential in order to solidify its reputation as one of the largest and most outstanding REALTOR® associations in this country."
Mr. D'Anzica noted that throughout her career, Ms. Fernandez was involved in a number of significant association merger transactions, including the historic 2010 merger between The REALTOR® Association of Greater Miami and the Beaches (RAMB) and the REALTOR® Association of Miami-Dade County (RAMDC), which created the Miami Association of REALTORS® (MIAMI). At the time it was the largest merger in the history of the National Association of REALTORS® and brought together 23,000 REALTORS® in South Florida, and which is now the largest local REALTOR® association in the nation.
Ms. Fernandez said, "I am very excited to be joining an impressive organization like HGAR and am looking forward to continuing its great legacy as I work with the exceptional leadership to advance their vision."
Ms. Fernandez began her tenure as CEO of the Greater Louisville Association of REALTORS® (GLAR) on April 26, 2021. She led GLAR through the COVID-19 pandemic and oversaw its expansion that culminated last month with its merger with the Old Kentucky Home Board of REALTORS®. The new organization is the largest local REALTOR® Association in Kentucky, representing more than 5,600 members in 13 counties.
She was responsible for 15 staff professionals and a contract lobbyist, two separate board of directors, including a wholly-owned MLS, and was responsible for a $3-million annual budget. Among her chief accomplishments include launching Kentucky's first Global Council and launching Diversity, Equity and Inclusion initiatives.
Ms. Fernandez previously held several posts with the Miami Association of REALTORS®, where she served as MIAMI's Chief of Communications & Global from Sept. 2018-April 2021. Previously, she was the Senior Vice President of Public Relations and International for MIAMI for almost 14 years.
Prior to her association with the Miami Association of REALTORS®, Ms. Fernandez worked in public relations for the Florida Department of Agriculture and Consumer Services. She holds a Bachelor of Science Degree in Journalism and Mass Communications from Florida International University in Miami, Fla., and a Master of Accounting Degree from Florida Atlantic University in Boca Raton, Fla. MIAMI is the largest REALTOR® Association in the U.S.
About the Hudson Gateway Association of Realtors:
The Hudson Gateway Association of REALTORS® is a not-for-profit trade association supporting more than 14,000 members in Westchester, Putnam, Rockland and Orange counties, The Bronx and Manhattan. HGAR is the second largest REALTOR® Association in New York, and one of the largest in the country.
Contact: Mary Prenon
HGAR
(914) 681-0833
SOURCE HGAR