ORLANDO, Fla., June 27, 2023 /Realty Wire/ — In May, Florida's housing market had more for-sale inventory (active listings) compared to a year ago, while statewide median sales prices remained relatively flat year-over-year, according to Florida Realtors®' latest housing data. Across the state, a slower pace of inflation and fluctuating mortgage rates above 6% continue to affect closed home sales.
"While communities across Florida are seeing increases in active listings (inventory), the state's supply of for-sale single-family homes and for-sale condo-townhouse properties remain far below what is normally considered to be a balanced market – which is six months," said 2023 Florida Realtors® President G. Mike McGraw, a broker-associate with RE/MAX Central Realty in Orlando. "It appears that the pace of rising prices has slowed. That's welcome news for first-time buyers, however, persistently high mortgage-rate levels remain challenging."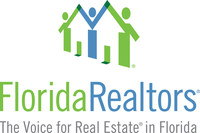 Last month, closed sales of existing single-family homes statewide totaled 26,396, down 8.5% year-over-year, while existing condo-townhouse sales totaled 11,392, down 14.1% from May 2022. Closed sales may occur from 30- to 90-plus days after sales contracts are written.
According to Florida Realtors Chief Economist Dr. Brad O'Connor, the May housing data continues a pattern that's been occurring most of the year, "in which 30-year fixed mortgage rates have persistently remained in the 6 to 7% range for the most part. This has led to a stabilization in price growth. Much of the impact from these relatively high rates continues to manifest in the form of reduced listing and sales activity."
He added, "The monthly number of closed sales of existing single-family homes in Florida – and throughout the rest of the U.S., for that matter – has eroded ever since mortgage rates started going up a little more than a year ago. We should expect to see year-over-year figures like this for the next few months, since we are going to be comparing this year's numbers to numbers last year that were in decline over the course of the year. In terms of this year, there's nothing on the immediate horizon that indicates the rate of sales is going to worsen significantly, but there's not a lot of news out there that gives us confidence that they will improve significantly either. For the most part, the housing market seems to be waiting for a pullback in interest rates, and the latest statements and actions from the Federal Reserve seem to indicate that is still several months away."
The statewide median sales price for single-family existing homes in May was $419,900, remaining about the same as in May 2022 ($420,000), according to data from Florida Realtors Research Department in partnership with local Realtor boards/associations. Last month's statewide median price for condo-townhouse units was $325,000, up a slight 0.9% over the year-ago figure of $322,000. The median is the midpoint; half the homes sold for more, half for less.
"Higher mortgage interest rates are not only dampening sales activity, but they continue to dissuade some homeowners from selling as well, particularly those who would need to finance another home purchase in addition to selling their current home," O'Connor said. "These higher mortgage rates are keeping the number of existing homes coming onto the market quite low.
"Home sale prices will continue to be dictated by supply and demand. We have fewer prospective buyers than a year ago, but we also have fewer active sellers. Prices will be dictated by this ratio, and unless it shifts dramatically in one direction or another, prices should remain stable in the meantime."
On the supply side of the market, inventory (active listings) rose year-over-year with single-family existing homes at a 2.7-months' supply in May, while condo-townhouse inventory was at a 3.6-months' supply.
To see the full statewide housing activity reports, go to the Florida Realtors Newsroom and look under Latest Releases or download the May 2023 data report PDFs under Market Data.
Florida Realtors® serves as the voice for real estate in Florida. It provides programs, services, continuing education, research and legislative representation to 238,000 members in 51 boards/associations. Florida Realtors® Newsroom website is available at http://floridarealtors.org/newsroom.
SOURCE Florida Realtors