HOUSTON, June 6, 2023 /Realty Wire/ — Venterra Realty is recognized on this year's Best Workplaces™ in Real Estate & Property Development list by Great Place to Work ™ Canada.
The Great Place to Work® survey conducted last year provided insights into the workplace experience of employees across Canada, representing a half million individuals employed at hundreds of companies. Venterra's Canadian team members had the opportunity to participate in the survey for a second time, and their feedback resulted in Venterra being listed as one of the 2023 Best Workplaces™ in Real Estate & Property Development. The organization is excited about this latest addition to their growing list of workplace recognitions.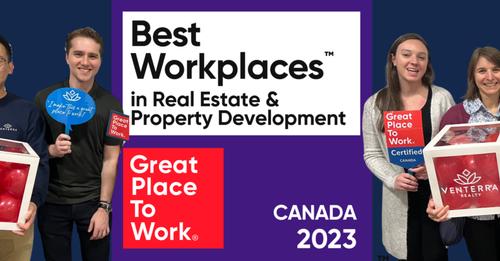 "We are thrilled to see Venterra listed on Great Place to Work®'s esteemed list of Canada's 2023 Best Workplaces™ in Real Estate & Property Development. The achievement marks a significant milestone for the company, and we extend our deepest gratitude to Venterra's team members for nurturing a fulfilling work environment. This recognition is a testament to the efforts of each and every Venterra colleague and the unique culture we have fostered together," said Venterra CEO, John Foresi. "Recognitions like this underscore our commitment to maintaining a 'people-first' culture," added Andrew Stewart, Venterra Chairman. "The ongoing dedication and contributions of Venterra team members are invaluable in shaping the inclusive and supportive atmosphere that defines our organization."
The 2023 Best Workplaces™ in Real Estate & Property Development list is compiled by the Canada Great Place to Work® Institute. To be eligible for the list, organizations must be Great Place to Work-Certified™ in the past year and work primarily in or be closely related to the real estate or property development industry. The institute determined the BEST based on employee responses to the global gold standard set out in the Trust Index Survey.
This study offers a rigorous representation of the organization from an employee perspective, and an overall portrait of the workplace culture. Together, they provide crucial data relative to five trust-building dimensions: credibility, respect, fairness, pride, and camaraderie.
For more information, please contact Great Place to Work® at bestworkplaces@greatplacetowork.ca
About Great Place to Work®:
Great Place to Work is the global authority on high-trust, high-performance workplace cultures. A global research and consulting firm, Great Place to Work® provides the benchmarks and expertise needed to create, sustain, and recognize outstanding workplace cultures. In Canada, Great Place to Work® produces both industry and demographic-specific Best Workplace™ lists, and represents the voices of 500,000 employees across industries. This is part of the world's largest annual workplace study, recognizing the world's Best Workplaces in a series of national lists including those published by The Globe & Mail (Canada) and Fortune magazine (USA). Visit us at www.greatplacetowork.ca
About Venterra:
Founded in 2001, Venterra Realty develops, owns and manages approximately 80 communities and more than 23,000 apartment units across 19 major US cities. Venterra provides housing to over 44,000 people and 15,000 pets. The organization has completed $11.8 billion Cdn in real estate transactions and currently manages a portfolio of multi-family real estate assets valued at approximately $6.4 billion Cdn. Venterra is committed to improving the lives of its residents by delivering industry-leading customer experience.
Contact: Allie Foard, Communications Manager & Brand Specialist, Venterramedia@venterraliving.com
SOURCE Venterra Realty