FREDERICK, MD. /Realty Wire/ JUNE 02, 2023 — Allwein Team, a leading real estate team, is excited to announce the opening of their new office located in Frederick, MD. The new location will allow the Allwein Team to better serve clients throughout the Frederick community.
The Allwein Team is a full-service real estate team that assists clients with buying, selling, and investing. Their team of experienced agents is dedicated to providing personalized service and expert guidance throughout every step of the real estate process.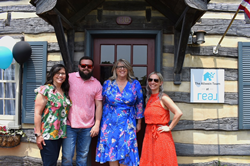 "We are thrilled to expand our reach and open a new office in downtown Frederick," said Stacy Allwein, founder of The Allwein Team. "Our team has a deep understanding of the local real estate market and we are excited to help clients find their dream home or sell their property for the best possible price."
The new office is located at 130
N. East street in the Shab Row section of Frederick. The office is conveniently located near local shops, restaurants, and other amenities, making it easy for clients to stop by and discuss their real estate needs.
The Allwein Team is committed to providing excellent service to clients throughout Frederick and the surrounding areas. Their team of knowledgeable agents is dedicated to helping clients achieve their real estate goals and providing a stress-free experience.
For more information about The Allwein Team and their services, please visit their website at http://www.allweinteam.com.