United overtakes competitors, paying out 96% of agents' commissions while providing a full complement of agent services, tools, training and transaction support
DALLAS, June 8, 2023 /Realty Wire/ — Research released this week unveiled that United Real Estate (United) pays its agents more than any other national brokerage – 96% of total gross commission earned. Notably, the residential brokerage is able to do so while also delivering a full complement of agent productivity tools, lead-generation, training and brokerage support to its tech-enabled base.
United's competitive advantages allow us to invest in agent services, innovation and agent compensation in any market.
The findings were unveiled in a study released by Mike DelPrete, a real estate tech strategist, author and consultant whose evidence-based analysis is widely read by global leaders. The independently verified data in the report examines agent compensation at the top U.S. brokerages. DelPrete's analysis shows that brokerages keep from 4 percent up to 23 percent of what agents earn in their home sale transactions. Especially important to note: the top five brokerages that grew agent count during the period were also those who paid agents the most.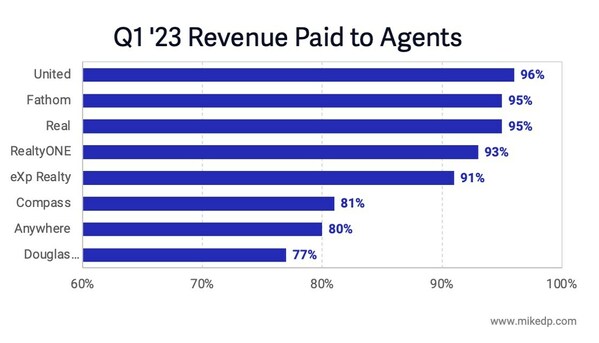 United's technology strategy is a boon for the agents it serves. Significant efficiencies were created by developing its proprietary technology platform, Bullseye™ Cloud. The software's core was developed in-house with the addition of best-in-class plugin engines procured efficiently at no cost to its agents. It has allowed the company to save and return tens of millions of more dollars to its agents from their transactions that legacy brokerage models would otherwise extract as agent commission splits and fees. The firm is able to deliver all the services and brokerage support agents need while retaining only 4% of transaction earnings from home sales.
Operating profitability on an incredibly thin margin is made possible through scale and volume. Since 2019, United has experienced a 268% growth in agent count and an 826% increase in revenues. According to unadjusted GAAP EBITDA reported by publicly traded peers, United believes it was more profitable in 2022 than any other competitor.
"Next-generation brokerage models that prioritize technology and maximize agent compensation now provide equal or superior services compared to traditional commission-split models. Understandably, agents are migrating to where they receive better compensation and all the services required to grow their business. United was purpose-built to scale without increasing costs as we add agents. That competitive advantage allows us to continue to invest in agent services, innovation and agent compensation in any market cycle. We are making significant investments while other real estate brokerages are scaling back or stagnating," commented Dan Duffy, CEO of United Real Estate Group.
"United's mission is to improve the financial trajectory of our agents' careers and sometimes their lives. It informs every decision and every initiative in which we engage. We are laser-focused on our promise to create better outcomes for our agents and their clients. Our operations and executive teams have invested an incredible amount of energy and dedication to deliver on this promise while making sure we don't overburden the finances of the organization. We've developed superior agent services complemented by the industry's best compensation. To have our staff and leadership recognized for the achievement is truly rewarding," stated Rick Haase, President of United Real Estate.
About United Real Estate
United Real Estate (United) – a division of United Real Estate Group – was founded with the purpose of offering solutions to real estate brokers and agents in the rapidly changing real estate brokerage industry. United provides the latest training, marketing and technology tools to agents and brokers under a flat-fee, transaction-based agent commission model. By leveraging the company's proprietary cloud-based Bullseye™ Agent & Broker Productivity Platform, United delivers a more profitable outcome for agents and brokers. United Real Estate operates in 33 states with 148 offices and 18,500 agents. The company produced over 77,900 transactions and $27.9 billion in sales volume in 2022.
About United Real Estate Group
United Real Estate Group (UREG) operates United Real Estate and United Country Real Estate, addressing the unique market needs of suburban, major metropolitan urban and rural markets. Utilizing the cloud-based Bullseye™ Agent & Broker Productivity Platform, UREG offers the latest training, marketing and technology tools producing a significant competitive advantage. The platform realizes a decade-long investment in virtual agent and brokerage technology services and is powered by a 2.6 million listings data warehouse generating over 3 million monthly visitors and 30,000 leads per year. Together, the United Real Estate Group supports more than 630 offices and over 21,000 real estate and auction professionals across four continents. United Real Estate Group produced over $34.4 billion in 2022. Through its in-house advertising agency, UREG offers differentiating marketing support and collateral for specialized lifestyle property websites as well as access to a 650,000+ opt-in buyer database. For more information about United Real Estate or United Country Real Estate, please visit UnitedRealEstate.com or UnitedCountry.com.
For More Information:
April Gonzalez, Media & Investor Relations
agonzalez@unitedrealestate.com